On January 24, the Confucius Institute at Ss. Cyril and Methodius University in Skopje held the 2020 Spring Festival Gala at the National and University Library "St. Klement of Ohrid" – Skopje. The rector prof. Nikola Jankulovski, Vice-rector prof. Biljana Angelova, Vice-rector prof.Gordana Josifova Nedelkovska, the Director of the National and University Library "St. Klement of Ohrid" – Skopje Mr.Frymzim Dauti, Chinese Ambassador to North Macedonia H.E. Zhang Zuo, as well as more than 260 CI students, teachers and members of the general public attended the event.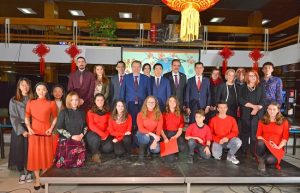 In his speech, H.E. Zhang Zuo briefly introduced the 2019 Sino-Macedonian achievements in economic and trade exchange, cooperation, etc. He affirmed the Confucius Institute contribution of in teaching Chinese as a foreign language and cultural cooperation. He ended his speech with Chinese New Year greetings.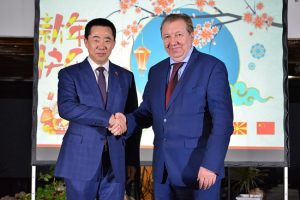 The Confucius Institute directors prof. Vlatko Stoilkov and prof.Liao Wei warmly welcomed all the guests and expressed sincere gratitude for their attendance. They summarized the results of the Confucius Institute's work in 2019, and thanked everyone for the long-term support and assistance provide to the Confucius Institute.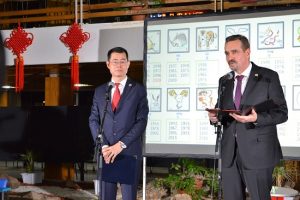 The program opened with the "Learning to Meow" dance, followed by the mellifluous romantic rendition of "On the Shores of Lake Baikal". The youngest students performed the songs "Happy, Happy", "Leaping Frog", "Good Baby", "The Snail and the Huangli Bird", "Pity the Farmer" and "Happy New Year". The pleasant sound of the children voices rang in the Hall like a herald of spring, making the audience giddy and joyful. The song "Friend" not only expresses the friendship between the Confucius Institute students of the, but also conveys the sincere wish for a long-lasting friendship between China and North Macedonia. The performance of the "The story of the monster Nian" combined the Spring Festival legend and elements of Chinese shadow puppetry to show the audience the origin story of the most important Chinese traditional Festival. The students demonstrated their Chinese Calligraphy skills by writing exquisite New Year messages on red paper and sharing them with the audience.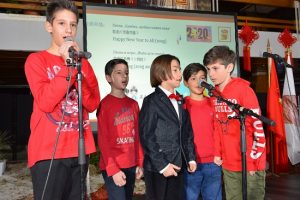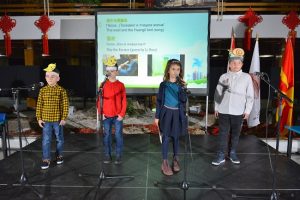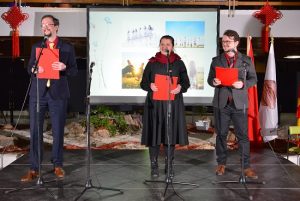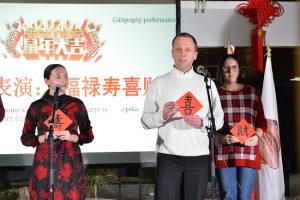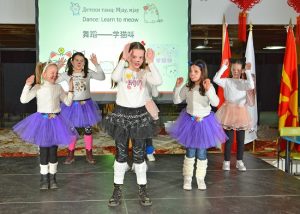 The Spring Festival Gala showcased the CI students Chinese language skills and presented Chinese culture, especially the Chinese New Year traditional customs, giving people the opportunity to learn about contemporary China, promote cultural exchange, mutual trust and love between China and North Macedonia.