On December 17, 2019, the Confucius Institute at Ss. Cyril and Methodius University in Skopje held a "Chinese End-of-Term Report Performance" at NOVA International School. NOVA Language Institute Coordinator Ms. Biljana Atanasovska and the parents all of the students in the Chinese class were invited to attend. The purpose of the event was to show the progress that students have made in learning Chinese at the Confucius Institute and to strengthen the cooperation relationship with the teaching site.
At the beginning of the activity, Teacher Qiu expressed her sincere gratitude to the parents for attending the event, she then introduced the Confucius Institute and the performance of students in the classroom. Every students introduced herself or himself and their family in Chinese. The students sang with clear and lively voices the Christmas song "Jingle Bells". The parents vigorously applauded the performance inviting big innocent smiles on the children's faces. The "Use Chopsticks" game followed in an atmosphere of excitement the students picked up pieces of candy with their chopsticks and moved them from the table on the left to the table on the right. The children were quite successful so many of the parents were eager to try the game.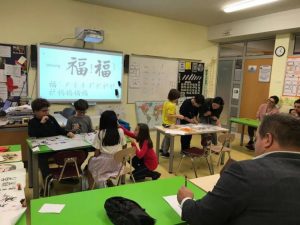 Experiencing Chinese culture part of the event included teaching the children how to use a calligraphy ink brush to write the Chinese character for "Fortune". Both children and parents participated and expressed keen interest in Chinese "Ink Brush Characters".  At the end, parents and students viewed the exhibited Chinese cultural handicrafts: paper cutting and Chinese knots, calligraphy, painting, etc. They said: "Chinese culture is really wonderful, and our children will definitely continue to learn Chinese and   become proficient in this foreign language." Teacher Qiu prepared different small gifts for everyone at the event. This event was very well received.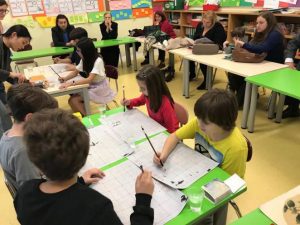 This interactive activity increased the students' interest in learning Chinese, it expanded the influence of the Confucius Institute at this teaching site and more people had the opportunity to learn about the Chinese language and culture. NOVA Language Institute Coordinator Ms. Biljana Atanasovska said: "Next semester we will continue to encourage more students to sign up for the Chinese language classes".