In order to celebrate the Chinese New Year and promote traditional Chinese culture, on the occasion of the Spring Festival, the Confucius Institute at Ss. Cyril and Methodius University in Skopje successfully held a lively and interesting lecture about Spring Festival customs. Teacher Zhang Lijie planned and organized the event. More than 20 Confucius students including 15 students from Skopje Language School -"Ni hao" and Chinese culture enthusiasts participated. The classroom was full and everyone discussed enthusiastically. The atmosphere was warm and cheerful.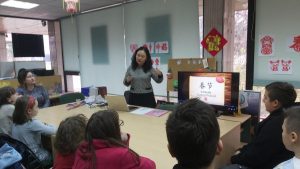 First, Teacher Zhang introduced the Chinese New Year origin story to the students and explained why the Chinese like to use red, hang lanterns and set off firecrackers to celebrate the Spring Festival. The lively and interesting myths and legends were interesting to everyone, and the students listened with interest.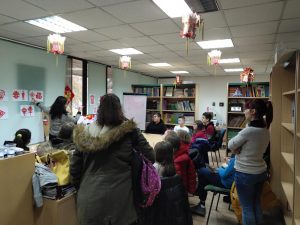 Next, Ms. Zhang introduced the students to a series of Spring Festival celebrations, including buying New Year's presents, displaying window paper-cuts and Spring Festival couplets, making dumplings, watching the Spring Festival Gala, red envelopes, Chinese New Year greetings, setting off fireworks and so on. Teacher Zhang played the video of Confucius Institute students performing the comic dialogue "All men are brothers". The students were both impressed and inspired, and expressed their commitment to study hard and speak fluent Chinese like the students in the video. Teacher Zhang taught students to say "Happy New Year!", " Have abundance year after year! ", " May you have a prosperous New Year! " and gave them blank cards encouraging them to write "Happy New Year" on the cards.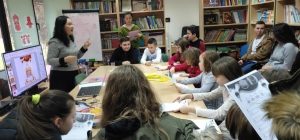 At the end, Teacher Zhang showed students Chinese New Year window paper-cuts, and taught the students to cut the word "Spring" with the assistance of other teachers. The students were overwhelmed and expressed the hope that the Confucius Institute would organize more activities like this, so that they could learn more about Chinese culture.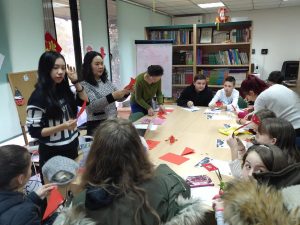 The event was aimed at celebrating the Chinese New Year, with the promotion of Chinese New Year culture as the core, the lively atmosphere was lively, allowing students in North Macedonia to feel the atmosphere of the Chinese New Year in advance, and also helping students to further understand the customs and significance of the Chinese New Year, understanding and mutual trust between North Macedonia and China.