On November 29, a new book promotion meeting of "Li Qingzhao's Complete Works of Ci" was held in the conference hall of the National Library in North Macedonia.Mr. Mao Qingwen, Counsellor of the Chinese Embassy in North Macedonia, The deans of the Confucius Institute Professor Liao Wei and Professor Vlatko Stoilkov, the Director of National Library Frymzim Dauti, the Chairman of the China–North Macedonia Friendship Association Mr. Malenkov, all teachers and students of the Confucius Institute, more than 60 people attended the new book promotion.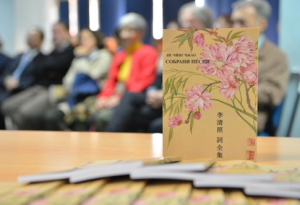 The translator of this book is Macedonian well-known sinologist Igor Radev (Chinese name: Feng Haicheng). He graduated from Beijing Normal University and obtained a PhD in Chinese language and scripting. He has published more than 20 translation works, including Mencius (Ancient Chinese to Macedonia). Language), The Book of Songs (Ancient Chinese to Serbian), Selected Works of Macedonian Literary Criticism (Macedonian to Chinese), etc., won the "Grigor Prlicev" Best Macedonian Literary Translation Award in 2012.Proficient in Chinese, English, Russian, Japanese and many other languages.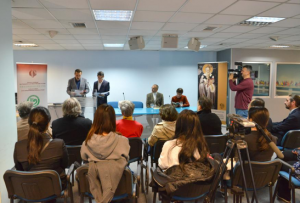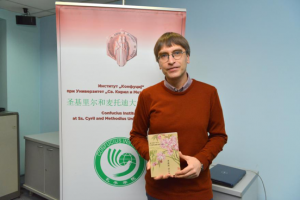 At the beginning of the event, The deans of the Confucius Institute Professor Liao Wei and Professor Vlatko Stoilkov gave a speech, introducing the education background and main academic achievements of Feng Haicheng , sincerely thanks to Feng Haicheng for his contribution to the cultural exchange between China and North Macedonia. Later, Professor Vladimir Martinovski, Dean of the faculty of language at Ss. Cyril and Methodius University, introduced the main content of the book and highly appreciated Feng Haicheng's works. Feng Haicheng introduced the book's publishing process and translation experience in detail, analyzed some poems in detail, and demonstrated the unique charm of Chinese poetry to the Macedonian people. The teachers and students of the Confucius Institute also brought wonderful poetry recitations in both Chinese and Macedonian, allowing people to listen to classical rhythms and experience the expression of emotions. After the promotion meeting, the audience had a lively discussion on Chinese poetry and Macedonian poetry. Feng Haicheng also signed for some book fans, and encouraged them to learn Chinese.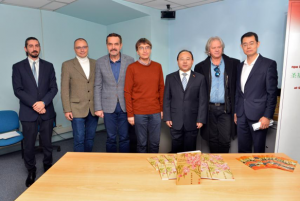 The launch of the new book promotion meeting has made people understand the characteristics of Chinese poetry, made the people of Macedonia better understand Chinese culture, and made great contributions to the work of the Confucius Institute.