On December 7, 2019, all the teachers of the Confucius Institute at St. Cyril's and Methodius University went to the future special school in North Macedonia to carry out teaching activities of  the Chinese paper-cut and Chinese knot to the teachers in the school. The activities were  warmly welcomed and  liked by the  teachers in the school.
This teaching activity aims to build a cultural exchange platform, let traditional Chinese folk art enter local classrooms, and promote cooperation between Confucius Institute and local schools. Teacher Zhang Lijie  prepared the main character designs of the classic novel "Journey to the West" and some simple symmetrical diagrams, introduced the story of the Journey to the West in detail, which attracted great interest of the teachers. After that, under the guidance of Teacher Zhang Lijie and Teacher Bai Meng, the teachers of the future special school learned to cut simple symmetrical diagrams.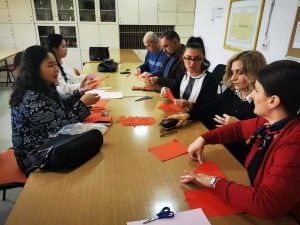 The Chinese knot group mainly taught how to make pipa knots. Under the guidance of Teacher Wu Yingjuan, teachers of the special schools  learned to weave pipa knots and bracelets. The Chinese knot is the moral inheritance  and the wisdom symbol of Chinese people. During the nearly two hours of teaching practice, the classroom was full of laughter, everyone helped each other, exchanged and shared their experience, and successfully finished their own Chinese knot.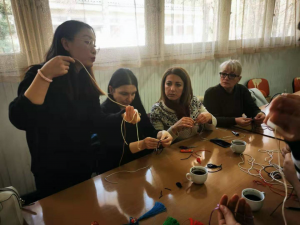 This teaching activity made  local teachers in North Macedonia fully experience the charm of traditional Chinese folk art and achieved good teaching results. Paper-cutting and Chinese knots, as two traditional skills which are made   between fingers, are of great meaning to children in future special school. The Confucius Institute at St. Cyril's and Methodius University will uphold the the idea of teaching through lively activities, continue to make breakthroughs and innovations, and promote the diversified and in-depth development of educational cooperation between the two countries.