On December 7, 2019, Confucius Institute at Ss. Cyril and Methodius University in Skopje was invited to the Vero Jumbo Center in Skopje to participate in the "Tea & Book" Festival. Confucius Institute teachers and volunteers presented a variety of interactive cultural activities that attracted the participation of attendees and their approval.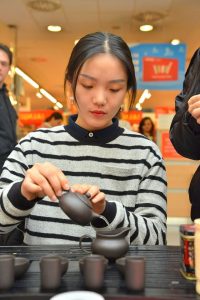 The event was hosted by the North Macedonian Cultural Organization "Dialogue". The Confucius Institute at Ss. Cyril and Methodius University in Skopje has co-organized this event for the past several years. The Festival started mid-day and attracted over 400 visitors. The festive Chinese style decoration and the Christmas atmosphere of the venue complemented each other. The unique Chinese cultural booth attracted the attention of visitors. The people that gathered around the Confucius Institute booth, had a strong interest in Chinese paper cutting, especially the paper cutting of the Chinese characters  "春"(Spring) and "脸谱" (Chinese Opera Mask). The tea ceremony was elegant and exquisite, showing the meaning of peace, tranquility, quietness, and silence in Chinese culture.  People were learning about the Chinese tea ceremony, while they drank the fragrant tea. The Chinese knot symbolizes auspiciousness, and is deeply loved by the audience who learnt this Chinese folk art, and also received blessings from China. A long line formed in front of the Chinese calligraphy table and visitors were excited to take home scrolls with the Chinese character "茶" (tea) and Chinese paintings.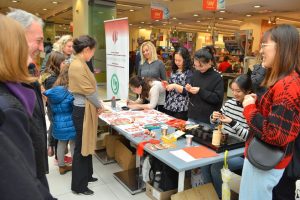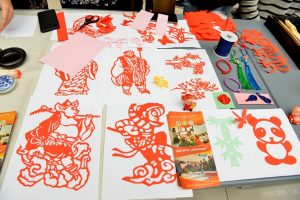 This cultural event showcased traditional Chinese culture with the aim of promoting Sino-Macedonian friendship and help the citizens of North Macedonia better understand and develop appreciation for this ancient culture.